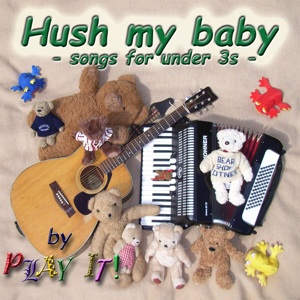 Songs for under-3s.
Listen to sample excerpts:
Hops and peas and barley-o
Row row row your boat
Peek-a-boo
Sum nya may (from Ghana)
38 songs, traditional and new; gentle songs, lively songs to move to, songs to adapt to your own situation, songs to use with puppets or props, action songs to sing one-to-one with a child.
With guitar, accordion, hammer dulcimer, autoharp, whistle, glockenspiel, balafon and assorted percussion.
Full lyric sheet and suggestions of how to use the songs.
Only £9.50 inc. P&P
Buy it now  via Paypal
IF the Paypal button isn't working, or to pay by a different method – please email Bill.